---
Social Media Marketing – 11 Helpful Social Media Tools for Marketers
November 17, 2016
No Comments
617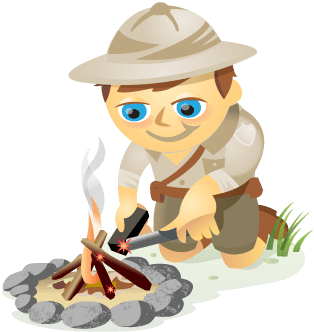 Looking for better social media marketing tools?
There are excellent third-party apps that can help you build your brand and audience through social channels.
In this article, you'll discover 11 helpful social media tools for marketers.
Analysis Tools
1. Analyze Social Media Traffic With Leadfeeder
Leadfeeder is a B2B tool that lets you track website visitors and retarget them on social media without having to install a special code or enlist the help of your webmaster.
It connects to your Google Analytics account and uses the data to give you leads. As soon it's set up, you'll immediately start seeing which companies have visited your website from social media platforms over the past week. You can also view which products or services they're specifically interested in.
There's a free 30-day trial that you can sign up for using your Google account.
With your new list of leads, click on the name of a company and Leadfeeder will show you whom you can reach out to on LinkedIn from that company, including second-level and third-level connection contacts (which makes your lead outreach that much warmer).
The tool also shows you which social network referred traffic, how many pages those users visited, and how long they stayed on your site.
Leadfeeder makes it easier to filter your data to analyze what's happening with your social media traffic on your website.
2. Build a Custom Dashboard With Cyfe
There are plenty of social media dashboards available, but Cyfe makes monitoring your accounts a little bit easier. It's a custom, cross-channel tracking dashboard that has performance (instead of scheduled posts) baked into its DNA. Better yet, it's free.
Signing up is quick and easy with a simple form to fill out. Once you're logged in, you can customize your dashboard by adding your own widgets.
There is a wide variety of widgets available to choose from. Add the ones that are most helpful to your company. For example, if you're using Facebook ads, you'll probably want to add the Facebook Ads widget.
This type of customization streamlines your social media monitoring so you're not wasting time sifting through data that doesn't matter to your business.
3. Analyze Your Competitors With Mondovo
Are you wondering what your competitors are doing to capture the attention of their followers? Then you'll want to start a Mondovo account.
Mondovo is a Facebook and Twitter competition analyzer tool that shows what your competition is doing right and wrong. It isn't free, but it is affordable. You only pay a few cents for each feature you want to access.
To get started, you'll be asked to choose which area you want to analyze. Click Social to analyze your Facebook competition.
Then select what part of social media interests you.
Next, pick how many domains you want to analyze. They're only $0.15 per domain. Then create your account.
From here, you'll see how many times your competition is posting, who has the most fans and engagement, and who's getting the most people to talk over the past week.
Video Content Tools
4. Shoot Short Films With Cinamatic
If you've ever dreamed of being a cinematographer, you'll want to check out Cinamatic. It's an app that lets you create short films and share them on Instagram or Facebook. The big difference between Cinamatic and other video-production apps is that it lets you shoot short clips and then add filters to make your video more attractive and professional.
Cinamatic is available in the App Store for $2.99. Once downloaded, just press and hold the red button to record. You can stop mid-movie to go to a different location to add interest.
After you finish recording, you can edit your film with different filters and varying contrasts.
Then reorder, combine, or edit your clips as needed. What you end up with is an attractive video you can use to brand your business while connecting with your customers.
5. Combine Photos, Videos, and Music With PhotoVideoCollage
Does your business host a live event? Do you want to showcase your product in action? PhotoVideoCollage is the app to bring those static pictures to life with music.
You can take photos from your phone and put them to music using a variety of layouts. After you select your layout and add your images, incorporate music. Adjust the volume, use snippets of songs, and apply fade effects to complete the experience.
Once the music is in place, you can add borders to your pictures to make them look more dynamic. For example, add water, confetti, or glitter in the background to round out the viewing experience.
What you're left with is a high-powered video of your photo gallery.
6. Broadcast Live to a Wider Facebook Audience With Livestream
Livestream is slightly different from Facebook Live. The big difference? You can reach more people by sharing your event with the masses, not just the people who like your page. If your business holds a conference or award show, this is a great tool to have.
Click the link to install the app on your Facebook page. Then choose whether you want to broadcast from your smartphone or computer.
Once you're live, you'll be able to engage with viewers through comments, as you can see in this livestream of the Ironman World Championships. Better yet, your viewers can engage with each other. It's an interactive type of broadcasting tool.
Once your event has finished, your broadcast will continue to be available for people to find and engage with.
7. Create Time-lapse Videos With Hyperlapse
Ever wanted to share a fun moment without taking up a lot of your follower's time? Then Hyperlapse is for you.
Instagram build this time-lapse video software, so you know it has strong social media capabilities. But it's not your average time-lapse video software. This app (which you install on your phone) stabilizes your camera, giving you higher-quality videos.
To use it, download the app and give Hyperlapse access to your camera. Then take a hyperlapse video of something, anything. For example, take a hyperlapse video walking through your office and saying hi to your co-workers. Or shoot a video of the sunset over your building.
Once you've recorded your hyperlapse, save it to your camera roll and you're ready to share it on Facebook or Instagram.
Research Tools
8. Run Advanced Instagram Searches With Mulpix
One of the biggest challenges of social media is sifting through all of the noise. You have to contend with lots of chatter and algorithms online. When you're looking for something specific on social media, you need a specialized search engine that filters based on your requirements, rather than what the bots think you want to see.
That's where Mulpix comes in. It's an enhanced search engine for Instagram that works by leveraging multiple hashtags (instead of just the term you used in your search), saving you a lot of time.
One of the best features is the geographic targeting. If you're looking for places to go hiking in Boulder, Colorado, for example, you can type in the search terms "boulder" and "hiking." The app will automatically filter out any posts that have to do with "bouldering" and instead focus on the city of Boulder.
In the search results, you'll find a variety of trail ideas, such as this post of the South Boulder Peak via Shadow Canyon Trail.
9. Research Hashtags With Hashtagify
Many marketers use hashtags in their posts without knowing if people are actually searching for them. Hashtagify solves this problem by putting real data behind the hashtags you use. You can see the most popular hashtags related to your topic or product.
For example, if you sell running gear, you might be tempted to use #running in your posts. This is a good start, but there are other hashtags that will make your posts stronger. To discover those, type "running" into the Hashtagify search box. The results below include #everymomentcounts, which is a unique hashtag related to running that you might not have thought of before.
Hashtagify also gives you the analytics behind each hashtag so you can see what's trending and what's on the decline. Click the Table Mode button below the chart to see the week's trends and how they correlate with other hashtags. You can see that #everymomentcounts is down, so you might not want to use that in your marketing after all.
To get more data about each hashtag, sign up for a free account and start viewing usage patterns and top influencers in your niche. Soon, your hashtags will start bringing more qualified traffic to your pages, giving you more bang for your social media buck.
Contest Tools
10. Run a Contest With Rafflecopter
When it comes to social media, it's all about engagement. Rafflecopter lets you create a contest to get people engaged with your account and build your following.
Sign-up takes only a clicks. Once you're logged in, you can create a giveaway in minutes.
First, choose a prize. What will you give away?
Next, decide how people can enter. There are several options to choose from and you can select more than one.
Finally, set your time parameters and your contest is ready to go.
You can take Rafflecopter for a test run with their free 7-day trial to see if it's worth the price tag. The basic version starts at $13 per month.
11. Run Facebook Campaigns With ShortStack
If you regularly run campaigns through your Facebook page, you need ShortStack. It lets you design and create attractive campaign pages.
Signing up is easy and takes only a few seconds. Once you're logged in, create a new campaign using either a template or a blank page. If you're new to the design world, a template is the way to go.
If you selected a template, you'll see a variety of formats and layouts to choose from.
Find the template that works for you (including a few holiday-specific templates). You can customize everything from the hero image to the copy and rules. Add features like countdowns and entry counts to bring your contest pages to life.
This specialized contest creation tool can help make your campaigns more engaging and successful.
Wrapping Up
Setting up social media accounts on Facebook, Instagram, Twitter, and so on is just the beginning. Gathering the right group of tools can make it easier to build your following and manage your accounts. These 11 third-party tools and apps stand out from the pack.
What do you think? What's your favorite tool? Which apps do you use that aren't listed here? Share your experience in the comments below!